Garage Door Torsion Spring
Back To Our Services
Trustworthy and reliable garage door repair services.
Whether the situation is urgent or the problem has been persistent for a long time, our customers always receive effective, dependable, and speedy garage door repair service. We provide emergency assistance as well as scheduled repair for restoring the optimal condition of these automatic systems. Technicians are fully qualified and equipped to do any job on the spot from bent track straightening and restoring rusty panels to fixing the opener motor. When the time for a new overhead door and electric operator has come, our replacement or installation service can be used for the fastest and most effective completion of the project. Automatic garage door maintenance is also among our primary areas of specialization. We do everything from panel repainting and lubrication to inspection, testing, and preventive repair.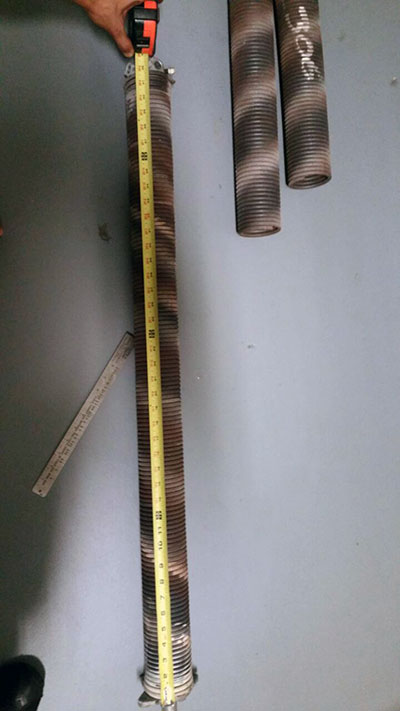 Torsion springs promote smooth movement of garage doors during opening and closing. Apart from problems associated with tracks, rollers and motors of the garage door, you may also have issues with torsion spring adjustment. Reduced tension in the torsion spring may occur over the years. This can cause the garage door to fall freely while opening or closing. You may try to pull the cable through the plate, and add another knot to increase the tension. You may also require garage door torsion spring repair or replacement for more complicated problems.
However, attempting torsion spring repair yourself can be a bad idea. The springs and cable can cause serious injury or even death if handled improperly. There are many different manufacturers and types of garage door systems. Each one will have a different spring and torsion specification. A professional garage door repair specialist will have the knowledge and expertise required to fix the spring torsion. They can also provide a quick diagnosis and estimate the torsion spring repair cost.
Residents in the Rancho Santa Fe area can contact Garage Door Repair Rancho Santa Fe at 760-810-4078 for all their garage door repair and replacement needs including torsion spring repair. They have the experience of working with a variety of brands including:
Genie
Liftmaster
Chamberlain
Craftsman
Sears
Marantec
The costs may vary. Hence, call Garage Door Rancho Santa Fe near San Dieguito Road and El Apajo to get your free quote, and for answers to all your questions.